News & Events
HOLIDAY OPEN HOUSE
Come visit us this winter during our Holiday Open House! Get in the holiday spirit with Christmas treats, in-store specials & door prizes!
Groton: Tuesday, December 3rd 10am – 4pm
Redfield: Wednesday, December 4th 11am – 2pm
Aberdeen: Thursday, December 5th 10am – 4pm
12 DAYS OF CHRISTMAS
This holiday season we are giving away 12 amazing prizes, simply register for your chance to win! Winners will be announced December 2nd-13th. One entry per person for duration of giveaway.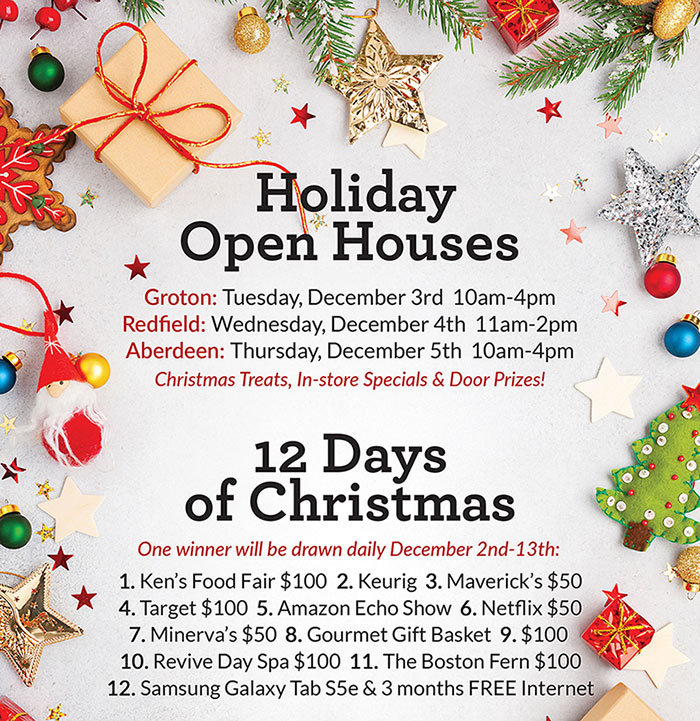 2020 BOB PETERSON MEMORIAL TELECOMMUNICATIONS SCHOLARSHIP
James Valley Telecommunications will be awarding three $2,000 scholarships in 2020. Please complete and submit the application online or download and print out the application. All submissions must be received by JVT on or before February 28, 2020. Applicant must be a high school senior graduating in the Spring of 2020 and whose parents/legal guardians are members of James Valley Telecommunications. Applicant must be attending an accredited college, university or vocational school in South Dakota in the Fall of 2020. A minimum GPA of 3.0 is required. Immediate family members of James Valley Telecommunications' directors and employees are not eligible for the JVT Scholarship Program. Any applications received after February 28, 2020 will not be considered.
All New CABLE TV Lineup
We're excited to announce that we have an all-new lineup coming to you in July! Instead of offering both a Standard Definition (SD) and High Definition (HD) lineup, all channels will be delivered in HD quality (when available) and at no additional charge. If you are currently paying $11/month for the HD lineup, that charge will expire after your June bill.
For example, CBS/KDLO is currently offered in SD (ch 4) and HD (ch 602). With our new lineup in July, ch 4 will be delivered in HD to all cable customers, at no additional charge. Ch 602 will no longer exist.
While streamlining our lineup, we also used your feedback to relocate channels so similar programing is grouped together. If you love the classics on Antenna TV, be sure to check out some of the classics on INSP, ThisTV and MeTV also – now all conveniently located together.
While we believe you will really enjoy the HD quality and ease of your new lineup, it will require you to relearn new channel numbers for some of your favorite networks. We apologize for the inconvenience but hope you agree the new HD lineup will be worth it. In addition, those of you with Cloud DVR will need to check your series recordings as many of them will need to be rescheduled after July 16th due to new channel placement. All recordings up until that date will be safe and available to watch at your leisure.
For example, if you have a series recording set for America's Got Talent on ch 603HD, you will need to set up a new series recording for AGT on ch 5 since 603HD will no longer be a working channel after July 16. Or, if you have a series recording on Discovery on ch 23 or 622HD, you will need to set up a new series recording as Discovery is being moved from channels 23 and 622HD to ch 59.
The changeover to your new lineup will take place on Tuesday, July 16, 2019. Reorganizing the channels will take most of the day, so don't be alarmed if some of your channels show a black screen. We will send a message to your Cable TV box to signal when all of the changes have been made. If you are experiencing any issues following the message, please call us.
Please click here to view the new Cable TV lineup. If you have any questions, please call or email us now so we can help make the transition for you in July as easy as possible. We appreciate your patience as we work to improve your TV viewing experience!
ANnual meeting
The JVT Annual Meeting is Thursday, May 30. Registration starts at 11:30 am, and the business meeting will begin at 12:30 pm. We will be serving chicken cordon bleu and Groton Area OST (Outside of School) kids will be performing.
JVT's office will be closed 11am to 2pm that day. Daycare will be available, so bring the kids.
JVT will be offering free bus rides for members. The schedule and locations for pick-up are listed below. To sign up for a ride call us at 611, send an email to marketing@jamesvalley.com or return the stuffer included in your bill.
Members who reside in Groton can call community transit at 397-8661 for a free ride. Please give Groton Transit 24 hours' notice.
Busing Schedule
11am Bristol – Fritz's Furniture & Antiques
11:15am Andover – The Other Place Bar
10am Frederick – Frederick Area HS
10:30am Hecla – Community Center
11am Columbia – The Lodge
10:45am Doland – Doland Area HS
11am Turton – Farmers State Bank
11:15am Conde – Plains Commerce Bank
10:30am Mellette – Northwestern Area HS
10:45am Brentford – American Legion
11am Stratford – Community Center
11:15am Ferney – Harry's Implement
Bundle and Save with Us Today!
Select the services you are interested in to see how you can save in bundling.
Here for Life
At JVT, we understand that life gets busy. That's why we are committed to keeping you and your family connected no matter where life takes you. To make things a little easier, we are giving JVT customers of five years or more our Customer Loyalty Discount.
Watch the video to learn more about how being a part of the JVT family benefits you.